This is the nineth issue of the second volume (Vol II, no. 9). The volumes run from April to March. In this issue, there are two plates and two pages of description. Plate one features figures 78 and 79 and is labelled "Morning Dresses." Plate 1 is shown below in color. Plate 2 features figure 80 and is labelled "Afternoon Dress." Plate 2 is shown below in greyscale.
Morning Dresses. The lady on the left in a simple white gown, covered with a white shawl. Her red fur muff and colorful bonnet add a touch of luxury to her appearance. The lady on the right is in a simple blue dress, with a fur tippet tied around her neck. Her cap is trimmed with red pleated ribbon and red bows. Her red slippers match the color of her cap's trim. Original text reads as follows:

MORNING DRESSES.

FIG. LXXVIII.

The hair dressed in ringlets. Stamp hat, covered with black velvet, edged with a yellow and carmelite spotted border; lined with pale yellow satin; trimmed with a plaid and a yellow silk handkerchief; and tied under the chin with a blue satin riband. Gown of fine calico, with long sleeves, and a broad hem and tuck at the bottom. Handkerchief within the gown. India shawl. Fur muff. Blue shoes.

FIG. LXXIX.

The hair dressed in small curls and ringlets, and the hind hair turned up plain. Princess Augusta's cap, made of embroidered book-muslin; band of carmelite coloured reverse-plaited satin riban; bordered on each side with a fine edging, and trimmed with three large bows of satin riband of the same colour. Morning gown of chintz. Handkerchief within the gown. Gold ear- rings. Fur tippet. Straw coloured gloves. Carmelite coloured shoes.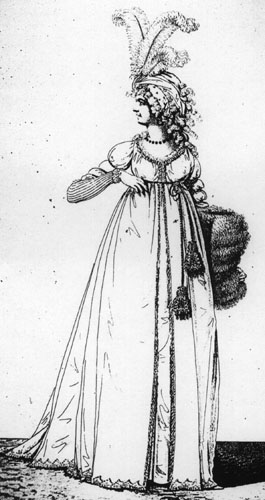 AFTERNOON DRESS.

FIG. LXXX.
The hair in light curls and ringlets. Bandeau of white satin, tigrç in carmelite. White satin chiffonet mixed with the hair; three white ostrich feathers placed in the front. White satin petticoat. Robe of white muslin, embroidered at the bottom with silver, trimmed round the neck and down the side with a silver fringe; long sleeves plaited and trimmed with lace, the upper part full, and tied with three silver cords. Round the waist a silver cord with two large tassels, tied at the left side into a bow. Diamond ear-rings. Plaited tucker, and a string of pearls round the neck. White gloves. White satin shoes.
---
To See More Dresses from The Gallery of Fashion
---
To Return to Main Page of The Gallery of Fashion


To Return to the Regency Fashion Page