Journal des Dames et des Modes
(Costume Parisien)
1797-1839
Last Update 5/18/4
---
Fashion Plates, 1818-1830

Left: Ball Dress, 1820. Clusters of pink roses and bands of white lace trim this pretty ball gown. A wreath of pink roses is the only headdress, while a diamond and ruby necklace adorns the lady's neck. Note how short the skirt is, showing much ankle.
Right: 1820, Male Fashion Plate
---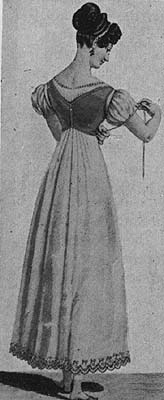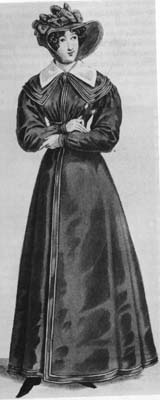 Left: Women's Redingote, 1821. The crape hat is trimmed with braided satin
and banded with satin folds.
Center: Women's underwear, 1822. The model wears a chemise pleated in back and a boneless corset that laces in the front.
Right: Women's Redingote, 1822
---
To Return to the Regency Publications Page